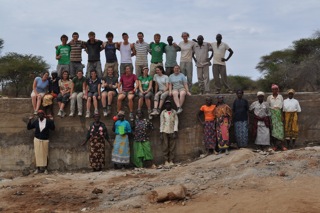 This summer Johny Wood from Excellent Development came away to work alongside the 17-strong Quest Kenya 2010 team in the Kibwezi District, bordering Tsavo East National Park. They spent six weeks mixing cement, carrying rocks, sand and water, and doing a little bit of teaching, football and safari-ing on the side. Team 2010 did an amazing job building two sand dams to help the communities ensure water security, even managing to beat the cement-mixing record of 200 bags in one day!
One of the things that struck Johny most was the way that cooperation with communities has been the key in bringing about the success of Quest Overseas and Excellent Development's work in Kenya. In his words, "to see first-hand how such partnerships can come together to effect real, tangible change was truly inspiring."
To volunteer on the Kenya Water Relief project in summer 2011, click here.