So here's the first blog from the Andean Expedition team….enjoy!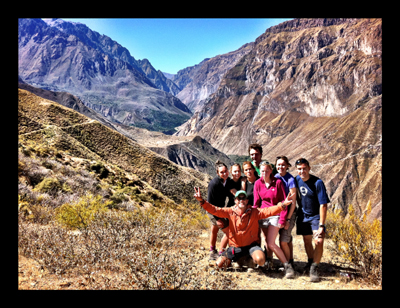 The team in the Colca Canyon…
It all started so well with 7 of us and only 6 bags… Luckily this was only temporaryand Sureyya´s bag joined us a couple of days later after its own adventure. After meeting our ´heroic´leaders (they´d had an early start after a late evening) and settling into the hostel in Miraflores, we explored central Lima and experienced our first Peruvian meal which contained Mystery Meat Soup and Gloop for desert (which we had more fun playing with than eating). Whilst Sureyya and Izzy got lost shopping (essentials, of course, due to the missing bag) and Izzy´s first trip to an ATM resulted in great confusion and her being charged more than she was taking out, the others enjoyed their first glimpse of the Pacific Ocean and visiting the many food shops. In the evening we all fell asleep in front of the football after eating the biggest Dominos pizzas we´d ever seen!
After Alex and Chloe shocked the hostel owners with a swim in the outsdoor pool- it´s Winter at the moment and the water is frio. We played bus lottery – grabbing the first bus we found and hoping it went to the right place- to get to Villa Maria, a shanty town community which Quest supports. There we were immediately made welcome in the school and caused havoc interrupting the lessons and playing with the kids which was fun as they were so happy to see us. James loved his camera more than the children! Whilst the boys made lunch, the girls were hard at work hammering planks of wood together to make walls and drilling holes. Gilly´s GCSE in DT put us to shame as she easily out sawed us. In the afternoon we completed the building of the house for a family of 5 and transported it to its new position where after taking down their old house, we reassembled the new, bigger and more airtight one. it was really rewarding to meet the family whose home we had helped to build and to know that it would really benefit them.
We only had to return to the hostel once (Pete forgot his phone) before getting an early bus to Paracas where we had a surprise boat trip to the Ballestas Islands (Crossbow). There we saw hundreds, if not thousands of birds: penguins, boobies, Inca Terns, Comorants….as well as Sea Lions and crabs. Pete was even lucky enough to receive some guano! We all tried some Ceviche for lunch (including Gilly the veggie and Izzy who hates fish) which is a traditional Peruvian raw fish dish marinated with lime, chilli and garlic. We then took a luxurious minibuse to Huacachina playing I-spy and stealing Tye´s flipflops to pass the time. We overcooked it a little bit at happy hour drinks before dinner resulting in a surreal mad hatter´s party in what appeared to be a living room, not a restaurant. Wearing crazy hats seemed perfectly normal as we sorted each other into Harry Potter houses:
Sorting Hat = Sureyya
Hufflepuff= Pete and Chloe
Gryffindor = Gilly and Izzy
Ravenclaw = Alex and Tye
Slytherine = Mike and James (Snape)
Following these shenanigans we went to La Casa de Avena (The House of Porridge) disco. Some time during this night Izzy came up with a few gems, such as:
Pete, "Oh it´s a bit chilly out"
Izzy, "I´m really warm"
Pete, "It´s because you´re wearing your beer jacket."
Izzy, looking at her arms, "But I don´t have a jacket on…"
and she almost got herself a Quest tattoo on stage.
It was an early start for Alex and Tye who went for a morning swim whilst the rest of us recovered. We then had a chilled day by the pool until sandboarding in the early evening. It was AWESOME! Pete screamed louder than Gilly and Izzy in the sand buggy which proves how much like a rollercoaster it was! Some of us were more successful than others at standing on the boards but Mike´s face plant was the most impressive fall (and it took him nearly a week to get rid of all the sand!). Following the excitement of the dunes it was on to a comfy night bus to Arequipa where Tyrone 'McNasty, went to the loo an unhealthy number of times!
We finally arrived in Arequipa where we had breakie and moved on to trek prep: Tye and Alex dashed around town to fetch (dirty) petrol whilst Mike and Gilly (the veggie) haggled for some salami and tried on some hats in the market. On to a mexican dinner where Tye couldn´t consume anything other than nachos and water…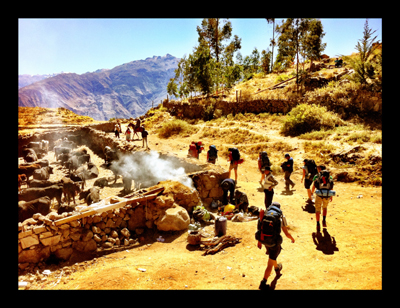 THE COLCA CANYON TREK
We were entertained from the beginning with a bull fight as we arrived. It was then pretty much all down hill for the first day with the reward of hot springs at the end. Day 2 of the trek involved an uphill scramble and a supposedly short trip without bags to visit the waterfall which was extended by Pete's 'amazing' orientation skills which were corrected by an elderly Peruvian who chased us for miles with his children to correct Pete's misdirection into the bush bush. The day was completed with bed time stories from Cosmo courtesy of James which kept us entertained whilst our dinner was cooking. After an uphill start, the path on day 3 finished with the perfect downhill for us to stretch out our legs and sprint the final bit. This was rewarded with a refreshing dip in the pool in the Oasis at the bottom of the canyon and a leisurely afternoon in the sun.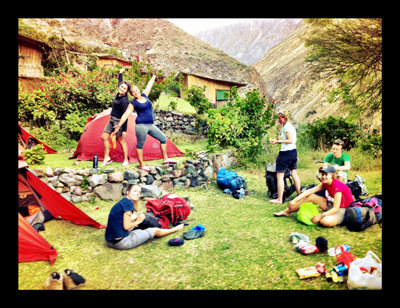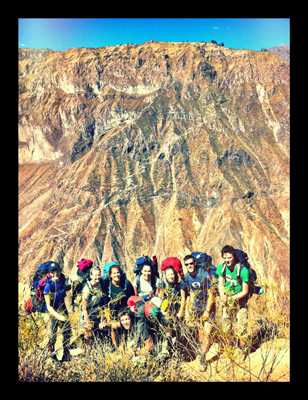 Whilst we waited almost 5 hours for our carbonara (which was worth the wait) we stargazed in our sleeping bags and witnessed Mike face planting (again!) whilst jumping in his sleeping bag. On the final day of the trek, the girls (minus Alex) left early to avoid the sun and not because they´re slow… Finally, after the 1,000m uphill struggle, helped by our new dog friends: Branston (who Mike prefers over his own dog) and Pickle, we reached the top of the canyon and were able to relax and delve into some BRANSTON! The trek was tough but enjoyable, brilliant food from Mike and Gilly on the cook team, excellent cleaning from Alex and Tye on the cleaning team (Tye was so keen he even used his boxers!) and awesome musical entertainment from Sureyya, Izzy and Chloe.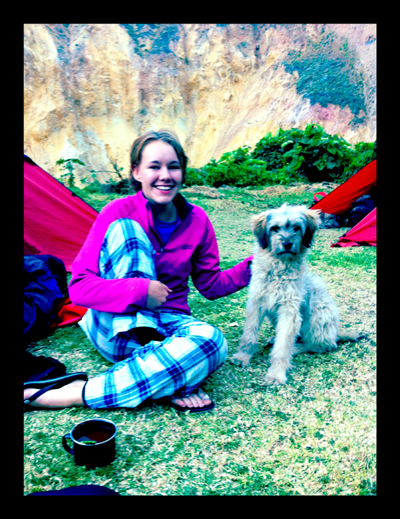 After finishing the trek that morning we thought we´d have a relaxing afternoon wandering round Cabanaconde and comparing blisters (Sureyya´s were the worst by far) but that didn´t quite happen… James made some friends and got us invited into day 3 of a Peruvian wedding party. Our initiation (which made Tye nearly vomit) was a traditional Peruvian drink chicha made from maize and fermented using human spit! We joined in with the dancing, took lots of photos, tried on hats and Izzy even got a free CD! It was great fun and we felt very priviledged to have been made so welcome. In the evening we continued to try new things and tasted our first Alpacca steak whilst watching a DVD in Spanish.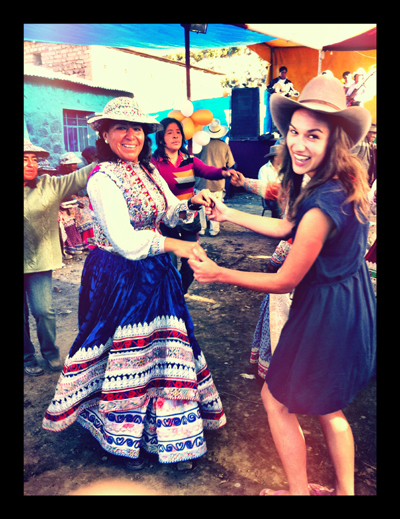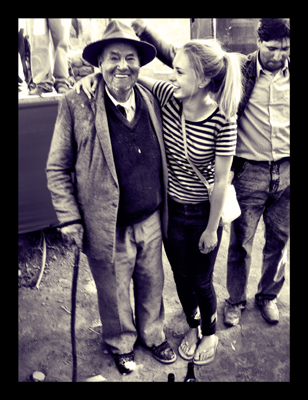 0 out of 3 alarms went off in the morning but luckily we were still able to make it to watch the Condors from the top of the Canyon. We had front row seats and saw adult as well as juvenile/baby condors fly really close. Then we jumped on the bus back to Arequipa. Booking tickets 3 days before didn't prevent James sitting on the driver's knee, Pete losing his seat to an ancient chileta (Peruvian lady) and sleeping in the aisle, Chloe being peed on by a lamb and the back tyre being changed whilst we were still on the bus. We then refreshed ourselves for the night out. We had a lovely (although touristy) meal with lots of traditional Peruvian food (including Guinea Pig) and then headed to the Frog bar where we drank ´death of the frog´ which is a once only… Today we are chilling and exploring Arequipa before we catch the night bus later to Chile. Hasta Luego Peru!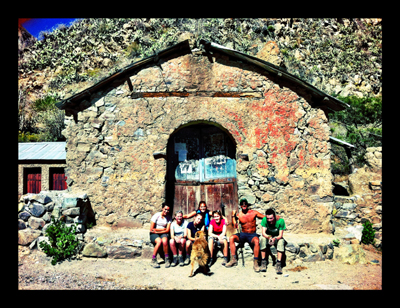 That´s all for now, muchos besos, Gilly and Alex