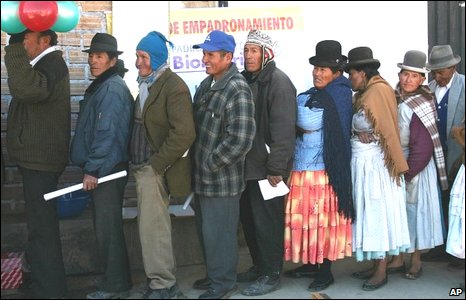 The Bolivian Government has begun to implement steps laid out in a new constitution which will give indigenous communities the opportunity to become autonomous. Yesterday President Evo Morales enacted a decree setting out the conditions for Indigenous peoples to vote on autonomy.
The referendums will be held alongside presidential and parliamentary elections in December this year, where Evo Morales could stand for re-election under the new constitution reforms.
The Indigenous population of Bolivia have historically been marginalised and were only awarded full voting rights in the country in 1952. Morales has been a champion of these communities and has called the reforms "a historic day for the peasant and indigenous movement" and also stated "Your president, your companion, your brother Evo Morales might make mistakes but will never betray the fight started by our ancestors and the fight of the Bolivian people,"
The provisions allowing for votes on autonomy, presented in a special event in the region of Santa Cruz, were met with opposition from Bolivia's traditional elite, mainly those of mixed race or European descent in the rich Eastern lowlands with extensive farmland and rich natural gas deposits. They claim that the new charter will "polarise the country by dividing it along racial lines".
However, the charter was approved by 61% of the population and came into force this February.
Find out about Quest's animal sanctuary project in Bolivia