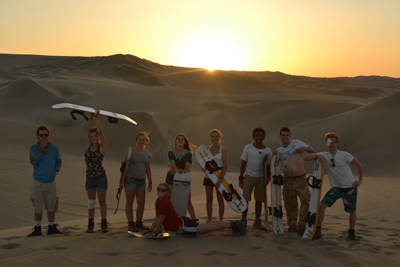 Thanks to Hugo for this one….enjoy!
This blog will be covering our time in lake Titicaca onwards, including our time in Arequipa, Colca Canyon, the desert near Ica, Villa Maria near Lima (where the other project is based) and finally the buildup to the Huaraz Trek.
Our journey from Charazani to Puno, over the Border in Peru, was not the most successful one. Our misfortune started when the bus from Charazani to La Paz was delayed until 2pm, which meant that our transnational border run was in danger. While we did get to spend a delightful morning in the hostel, sipping cold beers on a balcony overlooking the beautiful scenery we had just trekked over, this was to put our chances of making the Peruvian border that day in jeopardy.
Mid-bus journey, it was evident that Pete was becoming more and more flustered, the nervous tic in his eye going crazy, anxious drool cascading from his mouth and his hair standing on end in fear. After using a third of the group's toilet roll to wipe his face, he suggested that instead of heading on for La Paz we should try and see if we could flag down transport and get to the river crossing in Copacabana before it closed. The group decided in favour, and we rushed on, filled with hope for fried trout by Lake Titicaca. However it was not to be and we were forced to bed down in a basic hostel by the crossroads, cooking the remainder of the trek soup on their cold concrete floors, trying to get a few hours sleep before we rushed off again at 4am the next day. That morning Pete was able to have nice reunion with the Peruvian border authorities, who know him by the friendly nickname "La Mula", and we were on our way.
Meanwhile, Carolyn and Jimmy were enjoying her birthday in Wild Rover La Paz, one of the most notorious party hostels in South America, before enjoying an easy journey to Puno and what Pete commends as some of the best chicken and seafood places that he has ever visited. The group was not much consoled by this.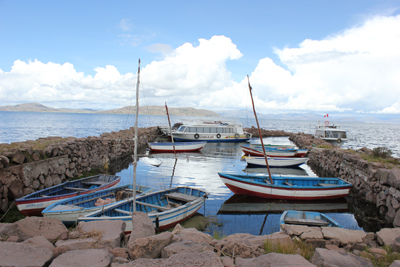 Upon arriving in Puno we met up with Jimmy and Carolyn and promptly boarded the incredibly pimp Quest boat. Some would have been put off by the fact that the Volvo steering wheel and manual gearbox suggested the boat was in fact part car, or that it was occasionally driven by an 8 year old in sunglasses, but not us. To us, this only made it seem more pimp. After all you could sit on the roof, and it had a toilet, with a seat no less (!). While lounging atop the boat and blasting "I'm on a Boat" by the Lonely Island, we sailed through the centre of the famous floating reed islands, although their authenticity was called into question as we noticed the somewhat less famous floating pylons.
We made land on Tequile Island which for some absurd reason did not stock tequila in its stores (????). What followed was a chilled day of exploring the island, enjoying delicious fresh trout and dancing drunkenly with the locals for an incredibly long time. In the night there was a fantastic thunderstorm and the next day we were able to see a cyclone in the distance.
The following morning we kayaked a couple of kilometres to the peninsular, during which Pete and Jimmy amused themselves by covertly disabling Hugo and Emily's rudder several times (my revenge is forthcoming). The peninsular was definitely called something beginning with a Y, and was another hotspot of local trout cuisine, with a particularly delicious salsa. Another relaxed day ensued, with much reading in pastoral fields, overlooking the world's highest navigable lake.
We took a bus from the village on the Peninsular straight to Arequipa, which in my opinion is probably the nicest city we have been to so far.
Filled with excellent seafood, extremely pleasant plazas, remarkable llama tack and a particularly sublime creperie. We had a couple of great nights out there, toured the city, prepared for Colca and most importantly sampled numerous local delicacies, including guinea pig, which was good although extremely expensive. Other goings on included Hugo taking on another fishbowl of spirits, called the Death of the Frogs, and needless to say the night did not end in a particularly sanitary fashion for him.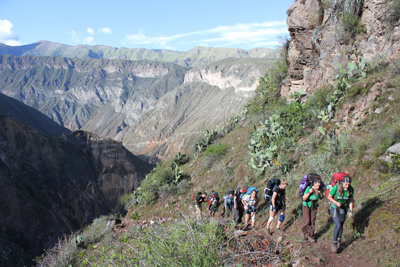 The Colca canyon trek was great, with excellent weather and views throughout the trek, contrasting nicely with the cold, wet and cloudy Apollobamba. Colca canyon is apparently the second deepest canyon in the world, with the deepest being right next to it, and there were stunning vistas of snow capped mountains plunging into huge waterfalls, with the occasional condor swooping past. The group trekked quite fast, although Carolyn injured her knee and had to do the final days 1000m climb via mule.
The cook team impressed with a delicious Irish stew on the first night, and Jimmy demonstrated the military precision with which he is able to undress in the background of group photos. The penultimate night of the trek was spent in a lovely riverside hostel, with a pool and bar that were a very welcome relief to the group, although tomorrow's huge climb loomed in the background. While the group was nervous, the climb was completed in a very rapid time, taking only 2hrs 40mins compared to the average 3hrs 30mins.
During the trek Jack managed to get some plant sap in his eye, which led to a quick visit to a hospital and us finally finding a use for the pirate eyepatches Katy brought along. Now Jack "Sparrow" (apologies) attracts even more attention from the locals, and at any one time has a crowd of young children gaping in awe/fear at him.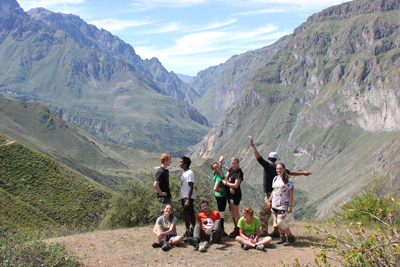 Then it was back to Arequipa for dinner at a renowned local restaurant, which was very good although all the steak seemed to have been reserved by the local Peruvian mafia. After getting some washing done and taking some well deserved rest, the group was off again, this time to one of the most highly anticipated parts of the trip – sand boarding and buggying.
We took a night bus and arrived just in time for lunch in Huacachina, a small town near Ica, and in the midst of the desert, a huge sand dune rising just outside of our hostel. After an afternoon of resting by the pool and touring the local seafood places, we bedded down to await tomorrow's adventures.
To coin a much used phrase, I don't think words can adequately describe how awesome tearing round a desert was. We flew over the top of dunes, rocketing down the other side and pulling 180's at the bottom. We occasionally stopped to pull out the cameras and more importantly the sandboards. Not quite having the skill to attempt a standing descent, we went down on our fronts, which was faster anyway, and as the dunes got bigger, we went faster. Pete however, was not able to gain much speed at all, which the group decided was due to his enormous buck teeth and ears affecting his aerodynamics. We returned to the town for the night to enjoy some oasis side beers and fried fish, before leaving the next day for the Villamaria project near Lima.
The Quest school was a very interesting place, as when we arrived it seemed to be run by an insane clown called Lucho, and the whole place was full of fancy dress costumes and graffiti from former Quest groups. Fortunately for those in the group who would rather face a Puma than a child, we were not forced to deal those pestilential nuisances, but rather put our construction skills to work painting the town hall under the school. After a quick game of football up the road, we hopped on a taxi the centre of Lima and got on a night bus to Huaraz.
Huaraz is another very nice city, and huge mountains frame some excellent anticucho and fried chicken places, along with a pizza place that has a pizza that is basically carbonara on a pizza (!!!!). We did a short day trek to a beautifully azure blue lagoon at 4600m, although the nights out and street food took their toll, with Saskia suffering a bout of altitude sickness and the rest of us making periodic visits to nearby hedges to the sadly fragile nature of our bowels.
That's all I can say for now, tomorrow we begin the Huaraz trek, which promises to be the hardest yet, with night time temperature reaching -10. However, you can all rest assured that we are having the time of our lives out here, we hope to see you all soon.