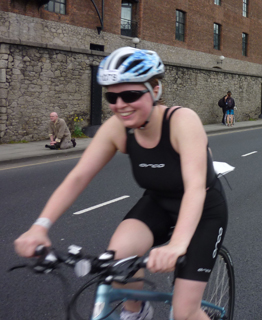 This weekend Charlotte Ashbridge completed the Liverpool 2011 Triathlon
in a fantastic one hour and 51 minutes – well done indeed!
So far, Charlotte has raised a brilliant £615 for Villa Maria, which wil
be used to expand 'Katie-Ville', the collection of new houses for
vulnerable single-parent families in the shanty town. These houses can
cost only around £500 to build, but provide safe, and sanitary homes
with electricity, running water and sewerage, which makes an enormous
difference to any family previously living in this kind of rough
shelter:
The
'Katie-Ville' initiative to offer improved housing to the families of
the most disadvantaged children in Villa Maria, began in 2008, after
friends, colleague and family set up a fund in the memory of Katie
Ashbridge, a volunteer in Peru with Quest back in 2000, and Charlotte's
cousin. There is no doubting the commitment of the Ashbridges and their
friends to continue to support Villa Maria – thank you.
With supporters like Charlotte, we will continue to provide new homes to give children and their families the best start in life.
If you would like to help us stop children in Villa Maria growing up
in these unnecessary conditions, find out about how you can get involved or DONATE to Charlotte's fundraising page here.