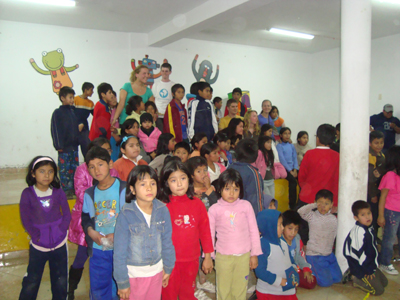 Another big thank you to a number of people
who have generously donated to support Quest's work Villa Maria on behalf of
Katie….
For donations at Penny Ashbridge's 60th
– thank you to Mr & Mrs Hadley, Dr & Mrs Lewis and Mrs Healey!
Thanks to Jane Powell and other staff at
Peter Hickman's Hairdressers in Tewkesbury for a fantastic teddy bear raffle!
Great work by Jane Davies and other staff
at the Bredon Hill Surgery in Tewkesbury for their quiz night – many thanks!
In Villa Maria, the school expansion is
going well, and these funds raised will be very much appreciated by staff
there, as they will go towards making the newly-built second storey more child-friendly. A plaque in Katie's name will be placed on the
school as recognition of all her family and friends have continued to do in
support of Villa Maria. Quest have a team of volunteers out in Villa Maria at the moment, who have just been painting the new classrooms with exciting pictures, building homes for families in need, and entertaining the myriad kids with fancy dress costumes and cinema shows.
Keep an eye out on this page
and our Quest4Change blog for
future VM updates!