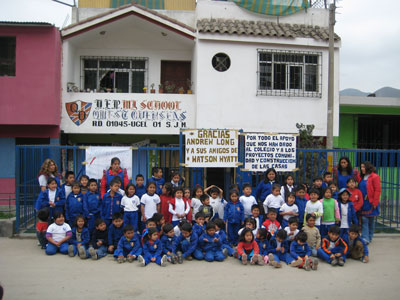 It's been over two years now since Katie's friends and family started supporting our project in Villa Maria, and their dedication has never waned. A hugely successful salsa night near Tewkesbury, a bake sale in the corridors of Watson Wyatt in Westminster, several sponsored runs and many other fantastic efforts has helped to give homes for dozens of families, education for dozens of children and sometimes just some fun and entertainment for the thousands of kids we work with out there.
Their most recent effort has been to sponsor a teacher at the Quest school in Villa Maria for 2011. The school is still expanding, and next years growth to include a third year primary class has been helped hugely by this donation. Special thanks goes out to Angie, one of the receptionists at Bredon Hill Surgery, who raised a fantastic £210 towards this fund from a raffle.
Everyone who has contributed to Katie's fund has a very special place in the hearts of the community of Villa Maria, thank you for your continued support!