Our Bolivian wild animal sanctuary project was incredibly fortunate last week to have a visit from UN Messenger of Peace Jane Goodall. She was visiting Bolivia as part of a South American tour, where she was giving talks to many different groups of people about her work to help prevent the destruction of our planet. A few years ago, she had named the head of the Inti Wara Yassi animal sanctuaries – Juan Carlos Antezana (pictured with Jane below) – as one of her "Heroes of the Planet" in an Animal Planet documentary, but this was the first time she had the chance to meet him in person.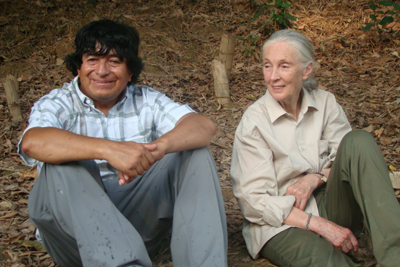 Her visit coincided with that of a group of children from a local orphanage. The combination of protecting animals and working with disadvantaged children was something which fitted in perfectly with her Roots and Shoots educational programme, which she is planning on launching in Bolivia – so well done Inti Wara Yassi!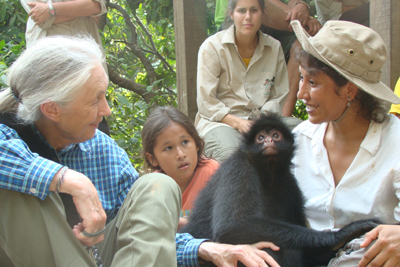 Jane pictured meets one of the parks spider monkeys held by Nena, the park manager and one of the founders of Inti Wara Yassi.
To take part in our Bolivian Animal Sanctuary project – GAP Year and Summer expeditions