If you're looking for adventure and want to try something new why not take a look at last year's group who climbed Kilimanjaro. It was an experience none of us will forget and we're all so proud we did it! I recomend it to anyone who can, you're already on Africa so why not give it a go? It was absolutely phenomenal, read the article to find out more and don't hesitate to get in contact.
Go on, you know you're tempted!
Day 1 – All excited and nervous for the trek we were about
to undertake we met our team (of 27!) and started to get to know our three
guides Philimon aka Cha Cha (the main guide), Anderson and Moses as got driven
up to Machame Gate (1800m). Giddy with excitement we waited to be allowed to
enter Kilimanjaro National Park while we had the first of many delicious meals.
When we set of on the Machame route we soon learnt the phrase "pole pole"
meaning slowly slowly as the pace needed to be set for the days ahead so our
bodies could adjust to the altitude. As we walked we were able to take in the
jungle scenery (and get tired in the process!), after about 5 hours we set up
camp at Machame Camp (3000m).
Day 2 – After our first night we set of for a scenic day and
lots of fun clambering on rocks. That night we camped at Shira Camp (3840m)
after about 4 hours walking and slept for the first time in below freezing
temperatures – thank God for our warm sleeping bags and layers!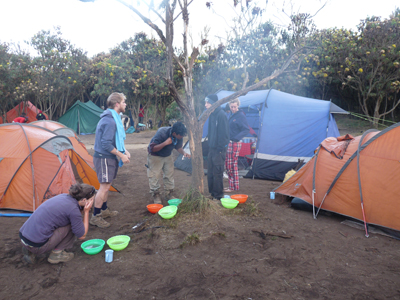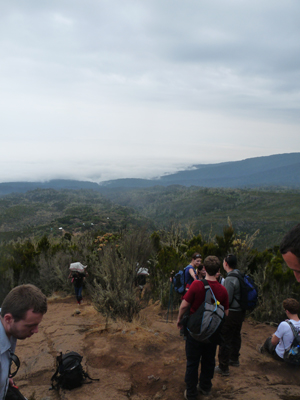 Day 3 – We awoke to dramatic views of frost covered
mountains and chilly hands and faces, but the air quickly warmed up as we set
off to Barranco Camp (3950) and some of us got down to our t-shirts! After
about six and a half hours of climbing up to 4540m to acclimatise and then down
we got to camp and start to see more and more Giant Groundsels (Senecio
Johnstoni) which are plants endemic to Kilimanjaro that look like giant cactus
leaves on top of long fury brown stems – the whole team was fascinated by them.
Some signs of AMS (Acute Mountain Sickness) appeared but this did not
discourage the team who were determined to get to the top!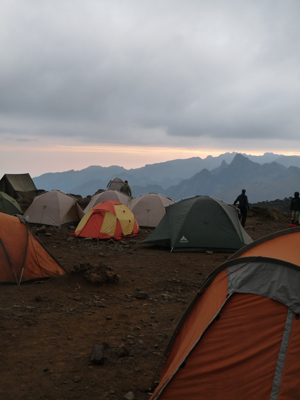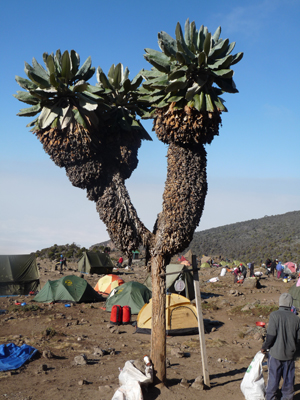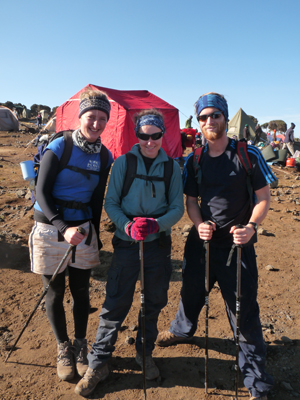 Day 4 – Our longest trek to date. Up to Barafu Huts (4600m)
we went for around seven and a half hours watching the vegetation gradually
disappear until there was none left. By the time we arrived the team was tired
and hungry so we quickly set up camp, had dinner and went to bed, but we still
didn't fail to notice one of the most spectacular sunsets we had ever seen! A
good end to the day.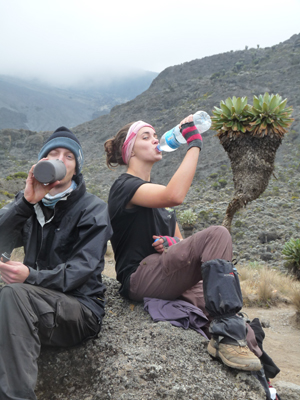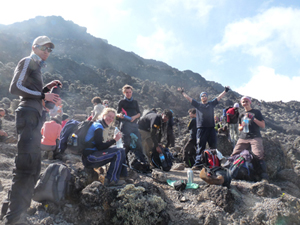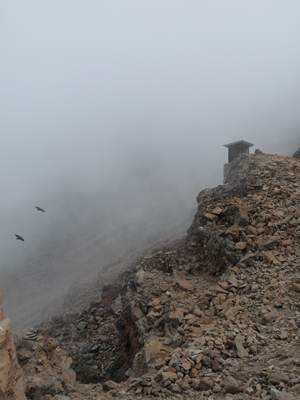 Day 5 – Today was the real test of our strength, and we all
came out on top! After a mere three hours rest we got up at 11pm (still day 4!)
and starting walking just before midnight, all ridiculously excited with the
prospect of summiting Mount Kilimanjaro that very same day! The joyous mood
however quickly waned and turning into a steely determination as we all started
to feel the effects of the cold, lack of sleep and altitude. Six and a half hours later of
trekking the steep hill in the dark we arrived at Stella Point (5730m) where
the land leveled out and we climbed the remaining 165m to Uhuru Peak a proud
5895 AMSL, all of us considerably behind Paul who in true Paul fashion charged
on ahead of us. A special thank you to Jo who egged Niroj to the top as he was
feeling the altitude – well done to both of you! After the mandatory
group photo we turned back incredibly proud and relieved and were delighted to
run into Steph who had stayed behind – oxygen mask and all, who summited a mere half hour after us
and caught up with us halfway down to Barafu Huts, at which point Niroj
kept sitting down and telling us that he was fine and "you guys should just go
on ahead without me". We obviously ignored him. Another special congratulations
to Katie who had trouble adjusting but never gave up and refused point blank to slow
down or let anyone carry her rucksack. After being greeted like heroes at camp
by the porters (who do this on a regular basis with about 15k more on their
backs than us) we had lunch and set off in a bit of a haze down to Mweka Camp
(3100m) which took us another five hours, everyone enjoying breathing in the
wonderful thick air!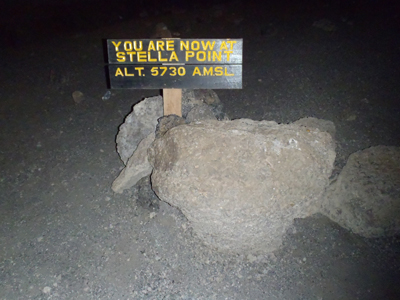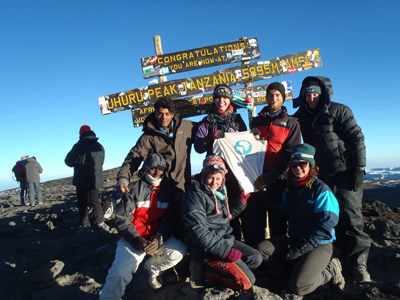 Day 6 – Our final day, everyone was feeling a mix of joy and
pride but also a sadness as our Quest adventure was coming to an end, we
thanked all our amazing crew and headed down the mountain. However there was
not much time to dwell on these thoughts as it was getting wetter as we got
further into the forest and therefore more slippery. This gave way to many
laughs at the falls, although obviously nobody beat Louisa's record who even
managed to take down Paul. He was not impressed. At the
bottom of Kilimanjaro we were greeted by our last delicious meal, got our
certificates and sadly waved goodbye to the amazing people without whom
climbing Kilimanjaro would not have been possible. On the journey back to Moshi
we were able to reflect on what we had just achieved. It was hard, one of the
most challenging things any of us had done, it was however, completely worth
it! We also thought a lot about a very welcoming prospect – a hot shower! Jo
was very please.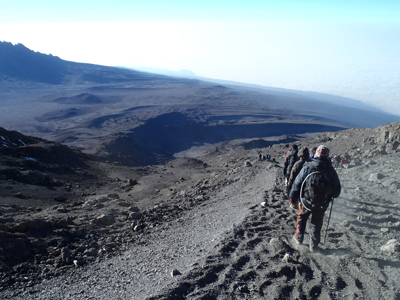 A massive thank you to everyone on the team, we wouldn't
have done it without each other's support and a special thank you to Richard
who bravely took on the challenge of leading a trip up Kilimanjaro on his very
first climb.