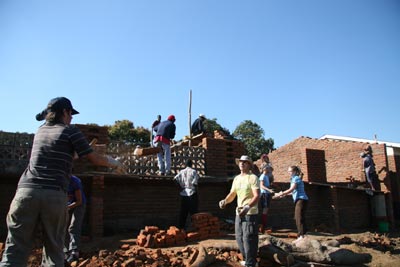 We are almost into our third week in Malawi and many a thing has occurred since week one.
We made our way to Lake Malawi last weekend. Sixteen of us piled into three trucks; Elise, Bella and I in the boot of one which we made more comfortable with cushions, rollmats and sleeping bags, our intrepid and fearless leaders, Charlie and Richard in two other cars, and Redson, a friend and helper from Malawi in the third. It was a good four hour journey – the last half hour probably being the most painful ride in our lifes; imagine a motocross track with invisible bumps, sixteen people in 3 four-wheelers, and no helmets. It was an experience, needless to say.
Upon arrival at the lake on Friday night we set up our tents at Fat Monkeys, the lakeside backpackers hostel. Including the foodtent – yes, we had a tent serving the sole purpose of food storage – we split into seven tents in total; our three leaders taking over the "Village" (a tent fit to accommodate six people at least) in a shocking display of tyranical power.
Friday night passed in a flash as everyone enjoyed fatty food – hamburgers and pizzas, which we do not get in Chitakale village – and copius amounts of drink – beers for the boys and G&T's for the girls. The greater part of the group resigned themselves to their sleeping bags around 9 p.m, weary from the long trip.
Used to our early mornings in Chitakale, the Quest team arose with the Saturday dawn around 8 a.m to windy and gray-coludy skies over the lake. Fortunately, the weather cleard towards mid-day; Richard had organised a boat trip for the whole group to one of the islands under the leadership of Lawless, one of the locals, a cheerful Malawian. The afternoon was well spent on the rocky shore of our island where Lawless and his mateys cooked fresh fish for us – it was a feast. The lake was a lovely temperature, whilst snorkeling we saw hunderds of coulorful fish flash by, and – I stand corrected – there is nothing quite as beautiful as the rosy African sun setting over Lake Malawi.
Aside from a groovylicious (Kaiky insists this word exists) dance between Richard and myself, the evening passed uneventfully, and, as dawn broke once again on Sunday morning everyone was sad to be leaving. The first half hour of our trip back home was a pain in the backside. Literally.
Half way home the cars stopped. Sotiris had run into a bit of trouble with the Malawian military; whilst driving through a checkpoint he had accidentally taken a picture of a female military officer, whilst trying to photograph the salespeople on the streets. The "lady" confiscated his camera and, for some reason kept on asking him: "What is your mission here? What is your objective?" After a lot of diplomatic effort on our leaders side, we finally managed to get the camera back and continue on our way home. I wonder what the Malawian military has to hide…?
?
Monday fell upon us with heavy rain and dark clouds. Raindrops had been hammering down on our tin roof like bullets trhoughout the night, and people awoke with moods as grim as the weather. The ants had returned and trippled in numbers – things were not looking good for the Quest colony. However, after several retalliatory battles we have managed to – probably only provisionally – force the ants into retreat. It was a massacre.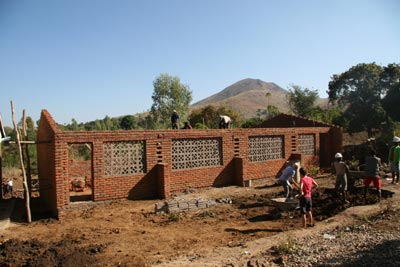 The school is coming along well. We have built three and a half walls and one through the middle to make two rooms out of one. The windows – made of patterned cement – are being set, and yesterday the construction of the roof and plastering of the inside walls began. We have mainly been shifting bricks throughout the week and leveling out the ground infront of the school – which included digging out three trees, one of which is now in our compound; it was half rolled, half carried back – and we are very proud of it.

To finish, football has become a definite after-build habit. True, the local Chitakale boys fly by us like Usain Bolt, whilst we pant and struggle – however we do put up a good fight and, more often then not, emerge victorious.
The girls have started a cheerleading group – I lack sufficient information to give you more of an insight; they are being very secretive about the whole issue.

A couple of fun facts:

– Elise has no bone in her nose and we would very much like to see what she would look like with clingfilm wrapped around her head.
– Bella is a wheetard.
– Richard can pull off the gay tennis outfit.
– Lauren is the most untrustworthy member of the group when it comes to heated games of Mafia.
– Miriam is Ida's favorite.
– Kaiky is Charlie Dimmock with a bra.
– Alex has a small head.
– Charlie wouldn't take care of Sotiris' nosebleed because she was enjoying his massage too much.
– Sophie has the best eyelashes. (I still think mine are the best, but oh well…)
– Ali has washed his feet for the first time today.
– Sotiris has a stunningly beautiful girlfriend.
– Luke has bigger pecks than most of the girls here.
– Natasha has surprisingly managed to keep long fingernails despite being one of the hardest workers on the building site.
– Natalie has a size 2.5 feet.
– I almost blinded the goalie in football the other day. Don't ask.

With that, tionana next week, thanks for reading!