Our Villa Maria Gap Team have been out in Ecuador for over a week now and have just sent through their first official blog – thanks everyone.
Week One:
"We have already been in Ecuador for one week, what a wonderful
country full of adventures and surprises!!! Our first adventure
began last weekend with the trip to "Otavalo Mercado" passing through the
animal market. After purchasing various hats, bags and jumpers we hit the road to the "Peguche
Waterfall". Luckily the water level was low and the sun was shining on our glistening
swim-suited bodies so we plunged into the shallow water."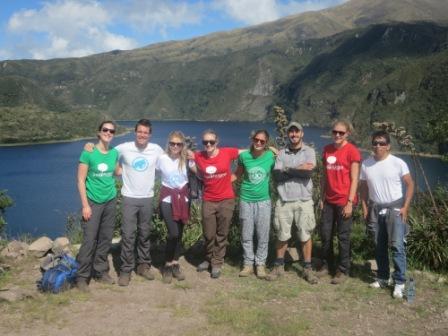 "Our first surprise was the Shaman ceremony we attended. Our volunteer,
encouraged by her amazing team stood bravely in the middle of a dark room
awaiting something the group would never forget………Maddy was subject to 20 mins
of chanting while the Shaman spat alcohol at her before being beaten with
blessed branches!
"Our kind Jose then drove us to our second surprise of the day, La Luna Hostel
which was located on the top of a hill: hammocks, beers, cards, great panorama,
tasty food, cute children, families and newly engaged couples made for an
unforgettable evening! We ended our first weekend with a four hour trek around a beautiful crater lake
called Lagon Cuicocha, our first
challenge at an altitude of over 3000 meters!"