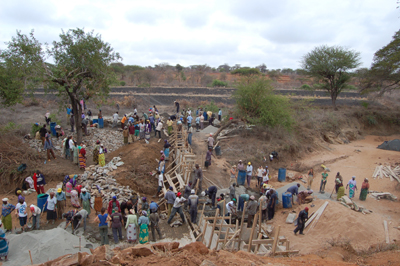 The seasonal rains have finally arrived in drought stricken areas of Kenya, providing some relief to many areas. Although the rains should ensure that crops do not fail and have already started to rejuvenate pastures for grazing cattle and goats there is no immediate respite from the food shortages gripping the country. The harvest from these rains will be ready in February so there is no instant relief for the 4 million people dependent on UN World Food Programme assistance. The rains are, however, a welcome sight and leave most cautiously optimistic that crops will grow and animals will get healthier and start producing more milk and meat.
For the communitites Quest and Excellent Development works with in Machakos the rains mean dry river beds will start to fill and the hard work put into building sand dams will be rewarded. Over the course of 1-2 rainy seasons the dam will fill with sand washed down river. This collects behind the dam and in turn acts as a resevoir, trapping water, filtering it and also preventing evaporation during the dry season. As the dams fill, the prospects of the local communities during the next dry season are much brighter.
Find out more about volunteering with local communities in Kenya, combatting drought by building simple but effective sand dams.