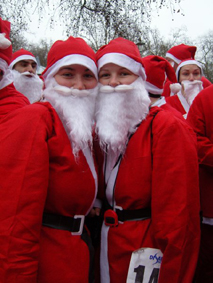 How do you fancy dressing as Santa Claus with over 2,000 other people and running, walking, skipping or jumping your way around Greenwich Park this December?
Sounds like quite a bit of fun doesn't it? One of Quest4Change's trustees Kunal Patel will be Santa-fied himself getting involved in this festive fundraiser and with a registration fee of just £20 and a fundraising target of £100 this is an event for all our fabulous supporters to get excited about. It promises to be a fun memorable day and when we take photos of the event to the projects we support in Africa and South America they'll think we're insane – British people run around parks dressed as Santa so that we can have clean drinking water? So we can send our children to school? So we can save endangered animals? They're crazy!
Why not get a team of friends involved, it's silly, it's fun, it's got to be done!
Click on http://quest4achange.blogspot.com/2009/08/great-santa-run-2009.html, drop Heather an e-mail or give her a call on 01273 777206 to find out more.
Please note that we have limited places for this popular event so don't delay to avoid disappointment.