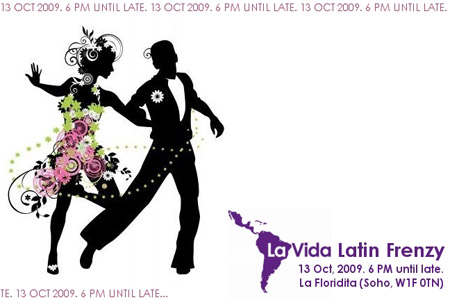 LA VIDA – Vital Investment for Development Aid in Latin America has
been established to raise money for specific health and education
projects throughout Latin America. The charity aims to preserve and
protect health, relieve sickness and poverty, and advance education.
They are the charity who sponsors children through the Quest Overseas
Pre-School in Villa Maria and to raise money for all their projects in South America, including Villa Maria, they are holding a huge Latin Frenzy night in London.
The evening is being held at La Floridita, in Soho tomorrow, 13th October, from 6pm til late.
It should be an absolutely spectacular night, with Entertainment including: an exciting Cuban Band, exclusively flown in from Havana for this unique occasion; Luis Rodriguez and partner dancing the Argentine Tango, Janet Fuentes and Rafael DelBusto , three times world salsa champions, performing a spectacular Cuban salsa show and the London School of Samba entertaining with a Bateria de Samba.
Raffle and Auction prizes include Eric Clapton's 'The Cream of Eric Clapton' Gold Disc and two return TAM flights to Rio de Janeiro, two return Virgin flights to New York, two return Iberia flights to Madrid, a 'Viva la Vida' Coldplay album signed by Chris Martin and a meal for 2 at Wahaca, Covent Garden.
To purchase tickets and to find out more about this fantastic night visit http://www.justgiving.com/latinfrenzy/
I would like to find out more about volunteering in Villa Maria, Peru with Quest Overseas