Thanks to their trusty leader Pete, here we have part 1 (of 2) of the Parents' adventures in Ecuador and Peru last month – enjoy!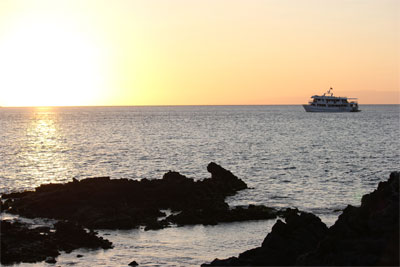 Whether inspired by their offspring's' travel memoirs from Quest-fuelled adventures…perhaps an insatiable curiosity towards the great civilization of the Incas?…or just the desire to get away and do something completely different and challenging, it was an absolute pleasure to welcome across 6 adventurous parents for 3 weeks in Ecuador and Peru this October.  Rob, Liz, Mike, Sue, Kathy and Cathy…you were legendary! Hope this brings back a few memories….
Friday 11 October 2013:
It is likely no co-incidence that as the plane touched down on the runway in Quito the airport bar went crazy in only the way South American football fans know how…Ecuador had gone 1-0 up in their world cup qualifier against Uruguay, a key match for qualifying, and in doing so had guaranteed their passage onto the big stage to be held in Brasil in 2014.  We were off to a good start and somehow I knew this group was going to be a lot of fun….  Having met everyone off the plane and settled them into the Café Cultura hotel in Quito I was sure of it..
And so Quito, Ecuador is where it all began.  Our relaxing first day was orientated around a morning jaunt to the Colonial Old Town, one of the very first UNESCO world heritage sites back in the late 70s and rightly so given its stunning mix of predominantly 16th and 17th century architecture.    Having perused the Basilica, Independence Plaza, Presidential Palace and the San Franciscan Monastery it appeared however that our English guests had brought the weather with them and we soon found ourselves holed up in the Jesuit La Compania church.  Certainly not the worst place to see out a shower, La Compania is renowned as one of the most ornate and beautiful churches within Ecuador, if not South America, displaying a masterful fusion of 4 architectural styles merged together during the more than century long period over which it was constructed.   Estimates to the quantity of gold leaf alone that adorns its interior weigh in at more than 50kg.  As the drizzle continued there was nothing for it but to ascend to the top of El Panecillo, Quito's very own sugar loaf hill, a volcanic mound that springs out of nowhere in the centre of town and is very much comparable to its infamous sibling in Rio de Janeiro.  Equally adorned with a towering statue that guards over the city, but that of the Virgin Mary, more importantly perhaps however it is also home to the rather aptly named Pims, a gorgeous balconied restaurant providing our now weary guests with their first taste of Ecuadorian cuisine and a cheeky sample or two of the local beers.  Needless to say day one also became an introductory one to an equally important Latino custom, the afternoon siesta…..
Like so many of the countries of South America, Ecuador quite rightly boasts of its incredible geographic and bio- diversity.  Indeed Ecuador does have it all….snow capped peaks…white sandy beaches…Amazonian jungle…and thus the abundant wealth of nature that such a spectrum of habitats provide.  Our first venture however was into the mysterious cloud forest and would prove to be quite an adventure indeed.  With said cloud forest only a couple of hours north of Quito it would however have been wrong not to have arrived without stopping off first at a few places of interest along the way.  And so it was that we found ourselves jumping into a cable car at the crack of dawn and hoisting ourselves, albeit assisted, up the slopes of Pichincha to be rewarded by a stunning view of the ever stretching fingerprint of the Ecuadorian capital.  Our first taster of the affects of altitude, and not surprisingly given our elevation of almost 4000m, we all felt more than a little breathless, if not nauseous.  Rob however got the munchies and went on the hunt for a second breakfast.  Our second stop was the Mitad del Mundo…centre of the world…the Equator line…where having a photo spread-eagled across both hemispheres is of course a must.  Photo taken the car drove on, the vegetation slowly changed and we became shrouded in mist…it was no surprise that we had arrived at our final destination.  Our first night was to be spent in the small community of Yunguilla and to the delight of one and all in local home stays, a chance to turn the tables and put the parents' homework to the test and see exactly how far their Spanglish had come along….
Knee braces and back supports on, we were off on yet another early start the following morning.  I needn't have bothered asking for volunteers to ride it out in the back of the pick-up for within seconds not one but all of the ladies had piled into the back and I joke you not it was giggles all the way.  This advantageous viewpoint not only gave inspiring views across the valley as we rose above the level of the lingering mist but also gave our bird-lovers their own private mobile hide from where our seemingly resident ornithologist Sue pointed out what would be just the first of many spots throughout the day.  Add to that the odd local jumping on and off as if we were the local bus, and in particular one very elderly senor whose trusty dog 'Champ' tore up the road behind us for near on 20 minutes at almost 4000m altitude.  Quite the experience…  I'm sure I wasn't the only one to wonder whether we could rig some form of dog-drawn trailer and steal him for the upcoming Inca Trail….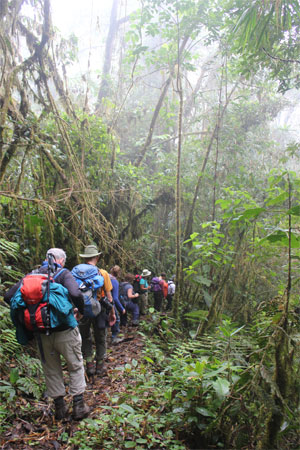 As the sweeping mist once again rejoined us we dropped down from 4 wheels to the trusty 2 and took our first steps into the enchanted forest. A true botanists dream.  I think Kathy went to heaven.  There are several hundred species of orchid alone within this corridor of Ecuadorian cloud forest and of course she wanted to find them all..the hunt was on.  After what seemed like much less, 7 hours later, tired yet content we popped out the other end arriving at our nights destination the Santa Lucia lodge, a stunning wooden eco-lodge set up with the help of Quest volunteers over the years to provide income for previously farming-based families through ecotourism in adaptation to government changes dictating the area a protected conservation zone. The luxurious comfort of the eco-cabins had been justifiably earned and rightfully enjoyed before once again returning to Quito the following day and making preparations for our next stop, a set of small islands 1000km west of the Ecuadorian mainland made famous by a certain Charles Darwin….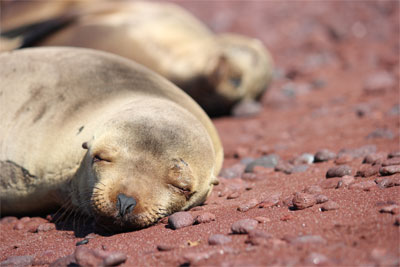 The Galapagos Islands are internationally renowned for being perhaps the best place in the world for up-close wildlife viewing.  Lack of mammalian predators has removed any intrinsic fear from resident species who bask in the sun seemingly oblivious to human presence just metres away.  The islands themselves of volcanic origin rising out of the sea form an equally dramatic backdrop.  A barren yet beautiful landscape that now plays host to a range of land-dwelling species hypothesized to have been swept astray by sea or air to subsequently inhabit and adapt to these shores.   Below the water-line reefs team with shoals of brightly coloured fish, rays, turtles and sharks.  All in all a nature lovers paradise…and we were seven very happy customers.  Hosted aboard the Galapagos Voyager, a first class yacht that sailed us around a 4 day island-hopping itinerary providing a spring board for day excursions and snorkeling stints, the days passed all but too quickly and we found ourselves once again back in Quito this time awaiting our plane for South American country number two, Peru…..