Lima, City of the Kings, as it was so named during the days of the Conquistadores sits on the Pacific coast and is the present day capital city of Peru with an estimated population of over 10 million, roughly a third of that of the entire country.  Steeped in history we were however neither here to visit historical monuments nor museums but to visit an area which has become of much more significance in modern times.  Urban sprawl and the translocation of almost entire rural communities to the city peripheries in search of employment and mythical city riches is a common sight in many South American cities.  Short term emergency shelters built during initial 'land invasion' sadly quite often become families' long term housing as the reality of the city struggle fails to live up to the promised dream.  Favelas as they are known in Brasil, shanty towns in South Africa, areas of high population and high poverty are certainly no stranger to the rest of the developing world and neither are the social problems that accompany them. 
Now in Quests fifteenth year of working within one such community, that of Villa Maria, our voluntary work has spanned out to cover a range of activities above and beyond the initial focus on dissipating gang culture and drug-associated problems through cross-community integration from the grass roots up.  Alejandro Menendez, Villa Maria Peruvian project director, who has worked with Quest since the very start, recalls those early years when youths could not even walk between neighboring districts for fear of being mugged, beaten up or in many cases worse.  Things have come a long way.  Nowadays each year Quest volunteers still descend on Villa Maria and are integrated within the community to provide much needed direction to vast numbers of young children through sport, arts and education during their summer holidays, the majority of whom are still left to run the streets as parents, through necessity, must leave them to go to work.  The Quest founded 'My School' primary school helps cater for the deficits in schooling for families living on the breadline and another need was identified within the community, that of repairing and replacing dangerous or inadequate housing.  Quest has now built 80+ houses for those in need.  A dynamic, ever-changing community environment in turn means that the projects long term aims and ambitions must be similarly flexible and ever evolving. 
It was the latter focus, that of providing safe and livable housing to struggling families, to which we were to direct our efforts over what seemed a short and insignificant time in which to assist.  Our goal…one day…one house.  To put things into context we were obviously not trying to knock together a multi-storey building with French doors and a balcony…we were building from scratch what back in the UK would probably be considered a moderate garden shed..in Villa Maria this would become a much needed and much loved home for a couple and their 2 young girls.  With the materials pre-ordered, tools at the ready and the invaluable assistance and expertise of the local team we got to work and it was heads down for pretty much the whole day.  By the end we made quite the construction team I have to say and I think it went to some of our heads…Mike 'the drillmaster' Jenkins was last seen scribbling plans for a dramatic Welsh garden gazebo.  Panels built the simple task of carrying them up a mere couple of hundred steps and assembling the house in its designated location remained. Easy right?  Backs were broken and the odd Spanish swear word learnt but with the sun setting behind us the roof was finally finished and we took a few steps back to proudly admire what we had achieved.  We had done it and just in time for nightfall. 
Words can truly not describe the feeling of handing over a house to a family in need.  It is truly inexplicable.  Emotions ran high as the children carried in their pet chicken and investigated their new safe environment.  Tears were shed on both sides and a humbling dinner (I think there may have been 2 pet chickens…) prepared as show of thanks by the mother of the family.  Our hard days work was put into context.    As we left to head back to the relative comforts of our hotel in the dimming light the red sierra fondly embraced its new member into the ever expanding mosaic of multi-coloured huts. Great things can be achieved in 'poco tiempo'…
And so before we knew it we were off to our final destination, Cusco, the very heart of the ancient Inca Empire. The name Cusco itself is derived from its indigenous name in the local dialect of Quechua, Qosqo, meaning umbilical of the world.   Lack of any written language of their own and only limited documentation of their cultures and customs from subsequent ever-biased Spanish Catholic Chronicles, the Inca Civilization remains to this day one of the most mysterious and intriguing to historians and visitors alike.  What is known undeniably is of their super-human feats in constructing the breathtaking terraces, palaces and religious sites which characterize Cusco and the surrounding Sacred Valley.  Those that stand strong even to this day following numerous large earthquakes in the region that have demolished much of the subsequently constructed colonial structures.  Those that arguably challenge anything built throughout the world at that time.  The most famous of which, acclaimed as one of the 7 modern wonders of the world, Machu Picchu draws up to 2500 visitors daily from all over the world.  Only relatively recently re-discovered in 1911 and given its rightful archaeological importance it was reportedly never found at all by the invasive Spanish forces.  Located a good 120km north-west of the Inca capital and tucked away on a secluded ridge amidst impenetrable cloud forest hundreds of metres above the equally hostile Urubamba river…perhaps it is no surprise the Spanish never found it…nor that the Incas wanted it to be found.    A central religious centre dedicated to the most revered deity of them all, the sun god Inti? Or the rural retreat of the most infamous Incan emperor of all, Pachucuteq?  The historians remain divided… Machu Picchu exhibits some of the finest examples of Inca architecture rivaling any within Cusco itself and was unquestionably of huge importance.  Accessible by foot by means of a solitary trail that winds through the valleys from the direction of Cusco, the now iconic Inca Trail was our final group challenge.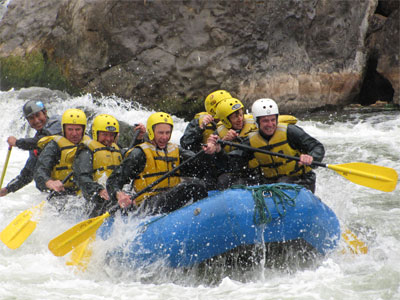 Our warm up…a few hours rafting down the Urubamba river on day one.  Unfortunately the weather had turned on us again much like it all began and what had been programmed in as an enjoyable paddle down the river turned into a true battle against the elements.  With us already a team member down (Cathy had come down with an overnight vomiting bug strangely co-inciding with the day after her birthday celebrations in Cusco…she was last seen throwing back pisco sours at midnight…it appears they may have fought back….) we dropped down to the one trusty raft, masterfully captained by our rafting guide Abel, and conquered the treacherous waters.. Soaked through and genuinely set for a much needed siesta there would be no such thing that day.  A quick riverside picnic and we were off instead to the start of the Inca trail and the initial stretch to the first camp of Huayllabamba.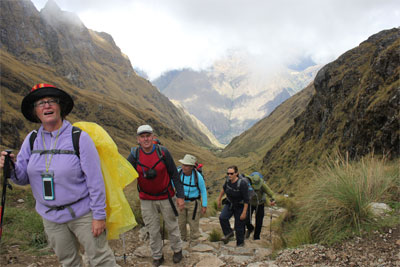 Day 2 would see us tested with the highest pass of the trail.  Intimidatingly named Dead Womans Pass and at a daunting 4200m (an ascent of over 1000m from camp) we would take comfort at the thought of the majestic giant tortoises in the Galapagos we had seen just a week before as we ourselves plodded onward and upward.  In all truth though we made it look easy.  The third and fourth days saw more uphill, then downhill, and then more of the same, and as we neared towards the great ruins themselves a higher distribution of Inca settlements, or tambos, along the way considered key rest points and communication centres.  The four day route would be crowned on the final afternoon passing through the Inti Punku sun gate and the spectacular view down onto the ruins opening up before us, that which we had often marveled at from postcards alone.  With so much history and points of interest to see the following day was dedicated to exactly that under the safe and knowledgeable wing of our guide Gato, and for the extra adventurous the ever energetic Liz led the way up to scale the adjacent mountain of Huayna Picchu and to the moon temple at its peak.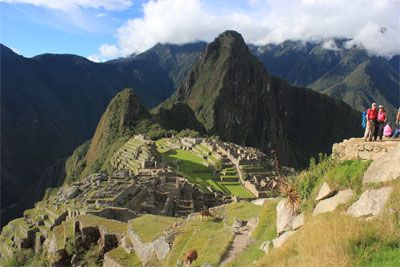 Following a truly authentic train experience mixing your classic rail service with a Peruvian catwalk show, we were back in Cusco for just one more day to rush around and haggle for souvenirs, enjoy a post trek massage and prepare ourselves for the final night fiesta….always an epic farewell reminiscing over favourite moments and memories shared, and of course the odd toast or two to great company… A fantastic three weeks.  Thanks again to one and all.  Plans are already in the making for Patagonia 2015…. Hasta la proxima!!