Latest news from the field.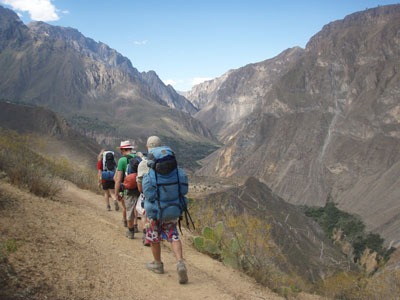 The whole of the team were exhausted after the Apolobamba trek and ready for some time to relax. However our fearless leaders had something else in mind for us! After a 6 part transit day into Peru we felt very much immersed in the expedition phase of our travels. We entered Peru in the best possible fashion driving along side Lake Titicaca.
We were all struck by the vast size of Lake Titicaca. It was hard to believe that it was a lake and that we weren´t on a coast. After a brief layover in Puno to collect ourselves we were rushed straight over to Tequile Island. Here we got to explore the picturesque island and submerge ourselves in some of the local culture as they spinned us around a fire teaching us some traditional dance moves. Our stay was short and forever on the move, we began the next day kayaking across Lake Titicaca to our next destination, Llachon. The experience of kayaking across the lake was wonderful, we got to appreciate how beautiful it was but also learn a valuable lesson: NEVER TRUST ROB. He was out for sabotage at every possible opportunity and two boats fell victim to his mischievous nature as they spun around unable to control their spinning. In Llachon we stayed with a host family. The food was delicious and the families incredibly warm and welcoming. Everyone was sad that the stay was only for a night.
However we had an Agenda to stick to and stick to it we did. Next stop Arequipa to prepare for our second trek, the Colca canyon. The Colca Canyon is absolutely stunning, littered with condors and always sunny- a welcomed change! The Colca canyon consists of two mediums, steep uphill and steeper downhill. Unfortunately our team is not exactly stable on our feet and there were numerous tumbles! Thank God Josh was always there to pick us back up! The highlight of the trail was deciding to wild camp by a waterfall after a particularly difficult day. We slept under the stars to the sound of the running water. Needless to say it was worth the struggle up the relentlessly steep hill. The final day the group were faced with the 1000metre climb. We all triumphed with NO breakdowns. The trek was wonderfully successful and viewed as one of the favourites
Back to Arequipa where we were greeted by delicious food! We had the best meal to point at a restaurant called Zig Zags. After such a difficult trek we were desperately scrambling to make ourselves look presentable or "like normal people" for this luxurious dinner. The feast continued for the rest of the time spent in Arequipa through crepes, falafels, fry-ups, ice-cream, cakes, alfahores and many many more delicious meals!