Well…it seems like blog posts from our teams overseas are like
buses…..you wait ages for one then they all turn up at once! Here's
the latest from the Villa Maria team. Thanks to Sophie for sending this
one through!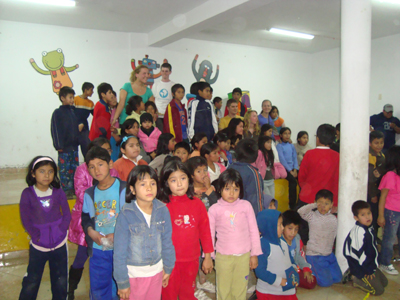 Monday-Thursday
We arrived and met the secret member
of the team i.e. May, unfortunately Adam couldn´t make it due to a family
situation. We were immediately accosted by the lovable mascots of the team,
Nena and Mina, who proceeded to attempt to eat us at every moment (they love us
really…I think). We started and finished building the grand total of one
house and finished painting the walls of the recently constructed classrooms
for the children. Callum spent most of his time drumming with the children, May
and Matt spent most of their time cooking and setting him up with the internet
cafe girl, Sophie and I with washing up i.e. scraping dirt off every surface
with a laser and Connie with failing at magic tricks and being beaten up with
sticks by Ally. Total injuries so far: scraped knuckle and bruises on
knees.
Friday-Sunday
on friday we finished putting the
walls together for our first house and then put on our special cinema/projector
on a white wall for the kids around the neighbourhood. beforehand though
we have to crawl up what feels like mount everest to hand out leaflets to the
kids so they know whats going on. surprisingly its pretty fun. we manage to
have a good laugh at the crazy woman who appears to have been locked onto the
roof by her relatives. i would do the same if i had to spent every minute of
every day with her. the poor soul. she just stands on the roof shouting
incomprehensible jibberish at us. good times good times.
The weekend was good, saturday we
held our fair, a little more hectic than we had anticipated, but we were able
to keep the kids in order, more or less.
Sunday was the famous family day
where we just had to make total idiots of ourselves in front of the whole
community. once again surprisingly entertaining. we put on huge disney costumes
and took a stroll around the streets gathering kids for the special dance performances.
All in all, our first week has been
great fun. with little mina adding the cherry on top by head butting a glass
door and smashing it. (i should remind u that she is a tiny kitten, how she did
it we dont know)