Before setting off for the project phase in Lima, the Villa Maria team took full advantage of their final weekend in Ecuador with a few days at the beach. Read on…

We arose at Mompiche to the sound of the ocean crashing onto the beach. This place was incredible. Our hostel, like all other buildings was old and wooden. The views were stunning and the village had a laidback surfer's atmosphere and seemed very unaffected by tourism.
We took to the beach in mass with surfboards and body boards. The majority of us made the classic British traveller mistake of no sun cream. As the blistered tomatoes were hiding from the sun another traveller gave his unwanted opinion saying, "It hurts to look at you"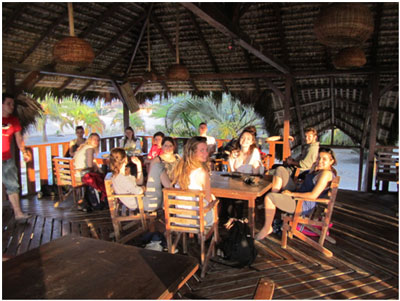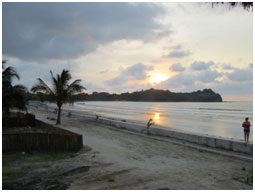 After a lunch overlooking the ocean, the afternoon was spent relaxing (mainly as few dared to leave the shade) with a few attempting to surf. Those of us who had surfed a few times in our life found ourselves passing our extensive knowledge on the subject.
And then the evening came around. I had assumed giving the peace and tranquillity of this place we would follow suit and enjoy a couple of cocktails in the few bars along the beach. Unfortunately it was closer to the filming of "Binge Britain Abroad". One person was on particularly good form; she has asked to remain anonymous, which I shall respect. Apart from a spectacular face plant her highlights were her quotes:
"Hannah, where are you going?"
"Don´t patronise me I have an IQ of 160 and I´m going to Cambridge"
"So where are you going"
"I don´t know"
"I don´t know why I´m getting with **** he only has an IQ of 140"
"I´m not going to sleep until you find my postcard" (this postcard doesn´t exist)
The following day we set off for our 10 hour coach journey back to Quito leaving paradise behind with only Lord of the Rings to look forward to that evening.
On Monday our return to Spanish classes was eagerly anticipated. The afternoon was spent however we wanted. Some used the time to visit the markets or wander the parts of Quito appreciating our time here was running out, others watched TV or went to the salon.
That evening we journeyed to the Panecillo for the stunning view of Quito. Unfortunately this amazing view only went a few hundred meters as it was yet another cloudy day in Quito. We had our last dinner out as a group, this time enjoying a better view of Quito. Although disaster struck when we blew the budget by 21 cents. Having eaten we got an early night for the big day tomorrow.
Tuesday, today we had a heroic battle on the football pitch going head to head with the teachers, we were greeted in the morning by our team strip which we wore with pride. Stories shall be told for many years of the day Quest triumphed. Blood and sweat were left on the pitch as history was made. The match was comparable to the Spanish Armada. A trophy was presented, and as Pedro got overexcited it was soon engraved. The scores stood at 6-3 (girls) and 9-4 (boys)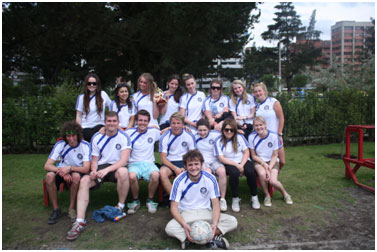 The rest of the afternoon was spent recovering or preparing for our BBQ party. Despite the teachers loss they did actually show up. Although we soon discovered they were still sour as at the end of the evening they were busted bagging up our leftover burgers and heading home. A special mention here must go to Jacob on this evening, who although he didn't score on the pitch scored with the opposition later. And so we headed out for our last night in Quito, and quite surprisingly there were no problems or mishaps. Or so we thought till we came home to Julie, who hadn´t gone out, passed out in the computer room.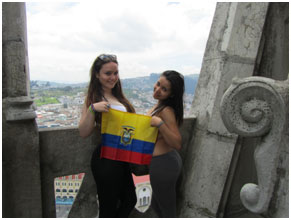 Our last day in Quito was spent doing a treasure hunt all over town. Answers, photos and videos had to be provided. One group was forced to drop out as their cameras let them down, they decided to spend there time and budget money at frozen yoghurt store. The competition was taken extremely seriously and extreme measures were taken to win, such as extensive taxi bills, nudity and even bending of the law. The winner is still yet to be announced and the tension is rising.
That evening we packed our bags and caught our flight to Lima excited and nervous for the next stage of the journey.