South America does not have the best reputation when it comes to catering to special dietary needs. When the national culinary specialities and street food essentially all contain meat, cheese and eggs, is it possible to live, healthily, in this magnificent continent as a vegan?
Here are top 5 tips from 2016 volunteer superstar, Josefin Rosman:
Carb up!

You are burning a lot of energy, especially during the travel part of the trip. Carbs are your best friend because they fill you up properly and keep you energized, so when you get the chance eat lots of them. When on foot, suitable filling food may be hard to find so you'll be happy you filled up on dinner last night or breakfast that morning.

Bring vitamin supplements

. Even if you don't usually eat them at home (I don't), bring some that includes a bit of everything. There are brands especially targeted at vegans and vegetarians. I bought VegVit by Vegetology and think they worked well. It's just so you don't have to think too much about getting everything you need to function.

Prepare for snack attacks

! As stated, plant-based options can be hard to find sometimes when on foot so packing some snacks for when you get hungry during the day is a must! Fruit in Bolivia is cheap (the same sadly does not go for Peru), make use of that. I basically always had a bunch of bananas in my bag for emergencies. They go bad pretty quickly when travelling however, so maybe opt for something that doesn't get too mushed, like mandarins, or papaya. Cut it in half and eat with a spoon (with some lime if possible). You can also buy the bananas when non-ripe. The shopkeeper will think you're crazy, but hey, no banana mush. If you have space, bring some energy/raw bars from home for quick re-energizing. Peanut butter is also great to bring. You can find it pretty easily in Bolivia, but if you don't like it smooth and sweet (or am hesitant to pay quite a bit for it) I suggest you bring some. It sure beats the snack attack!

If you don't like oats, do try and learn to because they are a life saver!

All you need is some hot water, a bowl, a spoon and voilà you have a really filling breakfast. Toppings do make it better though. Once again a mashed banana isn't bad and powdered cinnamon is simple to keep with you.).

Add an -o and you have the Spanish word for vegan: vegano

. But this isn't always understood. Sometimes it's just easier to say you're vegetarian, order something that is very unlikely to have egg in it and say that you are allergic to dairy. You avoid having to clarify any confusion about why you don't eat certain things and it becomes more important to actually get it right. Learn the whole explanation in Spanish and your life becomes easier. Lastly, don't be too hard on yourself. Some non-vegan stuff will unintentionally sneak in here and there. But hey, you're doing your best. Keeping a vegan diet traveling in South America is hard and the food can be a bit monotonous (hellooooo rice, chips and pasta with tomato sauce) but trust me, when you get to places where you actually have options (or find an entirely vegan restaurant!!!) you feel like you're having the best meal of your life! So keep it up! Good luck!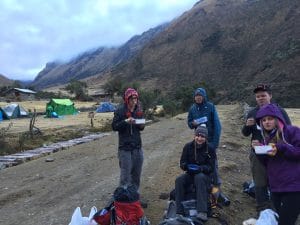 One of our leaders based in South America is vegetarian: here are some handy tips from the man himself:
`1) Make note and practise these basic, but very important, Spanish phrases:
Yo soy vegano/a – I am vegan
Yo soy vegetariano/a – I am vegetarian
Yo soy intolerante a la lactosa – I am lactose intolerant.
Sin queso, por favor – Without cheese, please.
¿hay una opción sin carne ni pollo? – Is there a meat-free option?
¿Este contiene el queso/leche/huevos/pollo/pescado/carne? – Does this contain cheese/eggs/chicken/fish/meat?
2) If you have a stove and a pot you simply must take advantage of all the fresh and exotic fruits, vegetables and general food on offer in local markets.
3) Learn to be patient. You are in South America to experience the culture, yet want to uphold your medical and/or ethical views. Rather than get upset or angry, just learn that you will 100% find food in some form- and with a bit of luck some very tasty treats throughout this fantastic continent.
Here are some fantastic vegetarian/vegan friendly places to eat that Josefin, her team and myself visited:
Top vegan (or vegan-friendly) food and restaurants:
La tierra sana– Found in Central La Paz, this once fully vegetarian restaurant has recently broadened it's menu to include some meat dishes. Still some great vegan opciones such as the Sri-Lankan Curry.
El Buda Profano– Arequipa's first fully vegan sushi restaruant. For something completely different, this relatively new restaurant has to be visited.
The green point– very (very) cheap 100%vegan lunch in the centre of Cuzco. 4 course meals for under $10USD.
Falafals in Cuzco- There a few stores around the main plaza, many of which are open late making the perfect mid-night-out snack!
Fruit salad breakfast at Sucre central market- try completely alien Andean and tropical fruits, there is even a beer smoothie!
Quinoa burgers at wild animal centre Parque Ambue Ari– have not tasted any better in Peru and Bolivia- not sure of the locals secret, but they sure are tasty!
Papachos gourmet burgers- suitable for all dietry requirements with a delicious quinao and bean based burger in the centre of Cuzco (pictured above).