Top 5 highlights on the Andean Expedition 2022
Travel is back! We take into account all safety aspects to ensure you can get back to what you want to do: explore, discover and travel.
The Andean Expedition is our ultimate 6-week itinerary, exploring both Bolivia and Peru. Almost impossible to leave out some iconic activities, but here we list our top 5 highlights:
1. Trekking to Machu Picchu.
A visit to the once-lost Incan city is high up on many bucket lists however that feeling of catching that first glipse of sunlight breaking the swirling mist after a demanding 3 day trek sends shivers down the spines. Still withholding many mysteries, Machu Picchu catches the imagination of all visitors. Entrance tickets are restricted for the foreseeable future, meaning you won't have the same crowds as pre-pandemic.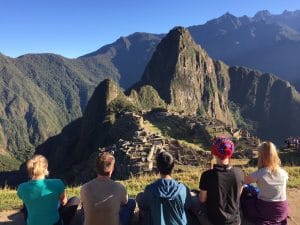 2. Kayaking on the highest navigable lake in the world.
After spending the night with a Peruvian indigenous island community, jump into a sea-kayak and brave the crossing back to the mainland. Have you ever kayaked at 3700m altitude? It's an experience like no other.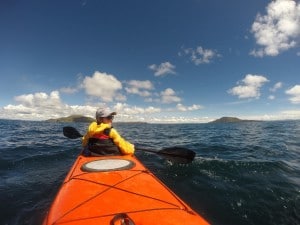 3. Take part on the ultimate road trip across the other-worldly Bolivian Salt Flats.
This epic 3 day takes in scene after scene of staggering natural beauty. Alien landscapes, flamingos and salt- no visit to Bolivia is complete without perspective fun and games with the salt mirage. One of our group leaders lived on the Salt Flats for one year- check out his experience here: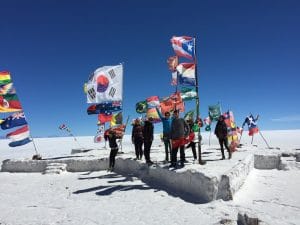 4. Summit an Andean peak.
Find you limit and push beyond! Put on your crampons and pick you pick-ax. Time to climb a glacier and reach a height of well over 5000m above sea level. The peaks we choose to summit are designed to be a real challenge, but an achievable one. Other than a basic level of fitness, you could be on the top of a Bolivian Andean mountain in summer 2022.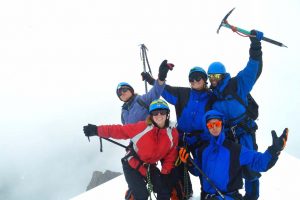 5. White water rafting through the Incan Sacred Valley in Peru.
The sacred valley was the heart and soul of the Incan Empire. Find out how nature inspired the Incan belief system by getting some inspiration yourself! This introduction to white water rafting will see you gain the skills to navigate grade 3-4 rapids- more than enough to get the heart racing.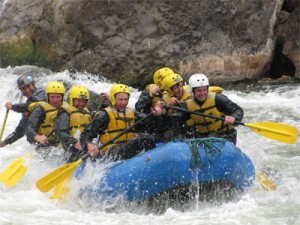 This is but a taster of what we over on the Quest Overseas 6 week Andean Expedition- we have SO MUCH MORE packed into the schedule (such as mountain biking down Bolivia's 'death 'road', sand-boarding down the highest sand dunes in the world, the list goes on and on!)
Click here to read the full itinerary. Culture, adrenaline and fun await those who join our team in July 2022.
6 weeks of accommodation, internal travel, food, activities and our expert leaders and guides included throughout Bolivia and Peru. All for just £3,150. Find out more here.