Lima is vast. It is the second largest city in South America, with over 9 million habitants.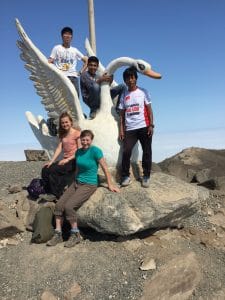 You can find the super rich and the struggling poor within a few miles of each other. Quest Overseas has worked for 20 years with the poorest district of Lima, Villa Maria del Triunfo.
We have built basic housing for over 120 families as well as provided social care and support to the children left to the streets on their summer holiday. Our volunteers provide support for the sturggling communties for 6 days of the week, however we try our hardest to show the most fun, whacky and cultural aspects of the Peruvian capital city on their 'day off'.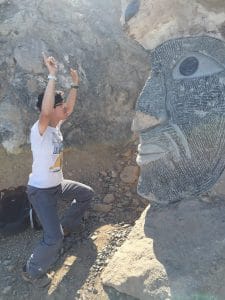 The Loma Verde is potentially the most bizarre day trek in Peru (a country famed for it's Incan roads, Amazonian jungle and Andean peaks). Our team leaves their project base at approximately 7.30am and catch the local minibus transport to the start of our day hike- an adventure in itself. From here we climb over 1000m (total height gain) above the constant, dense, Pacific cloud that hangs over Lima and into the Andean mountains.
A majestic swan statue (what else!) marks our point of highest altitude, over 1050m above sea level. The
mysterious swan marks the start of strange stone sculptures: a giant face, an old Andean lady, a variety of giant animals- all seemingly abandoned on the mountain side. No marker, sign nor inscirption tell us who or why these funky statues and sculptures have been left bare.
Regardless, they make for some fun photos!
Here is a chance to enjoy the sun and blue sky before descending once more back into the mist and cloud of Lima. A unique ecosystem high above the hussle and bussle of Lima is the perfect place to recharge and get ready for the following week of volunteering.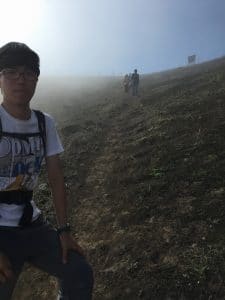 Our descent back to Villa Maria takes us down a beautiful valley, which is in stark contrast to the harsh, arid landscape, is full of lush green plants and colourful flowers- hence the name of this reserve 'loma verde' (the green hill).
Our guide for the day is the ever-dependent Pato. Keen long distant running, Pato is forever showing the Quest teams new places, funny shaped rocks and new communities to start working with that he finds along his almost daily morning runs throughout the district. He has just completed the Lima Marathon (again!) so we wish to send him our congratulations. Thank you Pato and see you soon!
Find out more about volunteering opportunities in Peru with Quest Overseas by clicking here.